Co-production and Compassionate Communities
Co-production is a term used when talking about service design, and the transformation it can bring. It has been defined as "the public sector and citizens making better use of each other's assets, resources and contributions to achieve better outcomes and improved efficiency".[1]
An assets based approach has been adopted by many organisations, for example the Glasgow Centre for Population Health presented 19 case studies in their report 'Assets in Action Illustrating Asset Based Approaches for Health Improvement'.[2]
But what does it look like? The photograph here is of a bag. The bag, once the ribbon is pulled out, turns into a comfort blanket (or superpower cape). The bag holds enough food and supplies to make snacks, meals and hot drinks. It also has a 'welcome home' card, and a wild flower bee bomb.
So how does this relate to co-production, and an assets based approach? The idea came for Compassionate Inverclyde, and their 'Back to Home' box[3] for people who leave hospital and go home to an empty house. Remember Mary Poppins' carpet bag, and how she could reach in to its depth and produce things that were needed to make life better?
The co-production part of this connects communities of all ages. The blanket was knitted by volunteers in a 'Knit and Natter' group in North Muirton, with wool donated by Zero Waste Perth. The card was designed by a Blairgowrie Girl Guide, and the food was donated from various sources. The 'bee bomb' has a link to Tayside Biodiversity group, with a guide on sharing where the bomb lands. This is a community effort in a bag. The intention is to run a trial with people being discharged home to Crieff, with Check-In Works Giraffe using existing assets to make it happen. If you want to find out more, contact us hcctraining@pkc.gov.uk


[1] Co-Production in Health and Social Care What is it and how to do it Loffler, E Power,G ed Bovaird, T & Hine-Hughes, F 2012
[2] https://www.gcph.co.uk/assets/0000/3650/Jan_2013_update_of_assets_in_action_report_WEB_SMALLER.pdf accessed 26/06/.19
[3] https://www.nhsggc.org.uk/about-us/health-news/2018/may/stories/boxes-make-going-back-home-that-bit-easier-for-irh-patients/ accessed 26/06/19
What is the role of a Design Intern?
How can I affect a huge organisation like the council in a positive lasting way? How can I demonstrate the skills and abilities to change an organisation made for sturdiness?
The answer is, by making a start.
A student entering the council will be immediately met by a wave of enthusiasm for collaboration and a willingness to affect change. The range of staff members from different departments willing to reach out is impressive and a valuable asset to the student. Staff will have a range of backgrounds, goals and ideas of what a Design Student does. This acts as a jump start for the student. Having that network immediately available and accessible means that there is no time wasted in settling in.
Why is there such an eagerness to affect change within the workplace?
It is a natural response for people to focus on the negatives of their life over the positives and sometimes a fresh pair of eyes can bring about that realisation that things are not that bad after all. It is equally plausible that staff have valid aches and pains regarding their work environment that require a fresh pair of eyes to solve the problems. It's the job of a student to integrate themselves within the culture of the organisation to understand these complaints and to empathise with the staff. A passing complaint is nothing unless you feel the pain/frustration that led to the complaint. Empathy is a cornerstone of good design and shouldn't just be part of a design process but rather the basis for all future work to stand upon. Gathering a range of perspectives and opinions gives you a broad base to build something strong and sturdy.
Empathy shouldn't ever be a one-way service. It is irresponsible to expect someone to come in and fix all your problems without giving thought to their skills, resources & respective ambitions. That's where the misconceptions of what a design student may play a part. Design is such a huge term that can mean everything yet, equally, can mean nothing.
Service Design, Product Design, Industrial Design, Inclusive Design, Co-Design & Universal Design are just a taste of what people associate with the word 'design'. Managing expectations is something that you must be wary of. There should be a mutual agreement between staff and student that the design student may not have the skills required to solve every problem. It is about communicating effectively that although the student doesn't have the skills to solve the problem, 90% of the time the person with the complaint has the skills to solve the problem given the right mentoring and access to resources. Each member of staff is likely to be an expert in their problem.
Real Innovation requires two things:
Expertise
Design Thinking
Design is just the vehicle for effective change. Experts understand the problem and can analyse solutions.
Innovation is caused by experts driving change through design.
You are the expert of your own problems.
My role is to connect knowledge of design tools and strategies to the council staff's problems to create a partnership with effective and lasting benefits. Two directional knowledge transfer and effective, open and honest communication is key to the success of the project.
Dylan SclateR
'Understanding Autism' - My personal Experience
Click here to see my full story
My Autism – Young Scotland Programme

I saw an advert for the 'Young Scotland Programme' which sounded really interesting. I thought and knew this would really help me improve my confidence, communication skills and broaden my horizons.
At first I was really excited about it but after submitting my application form, I started to fear the unknown – I just didn't feel I was good enough do this programme and because of this I hesitated and was reluctant to attend the short listing. My thoughts were "what would the Young Scotland Programme expect of me?" "Would I manage, or am I going to fail?" I believed I wasn't capable of completing the Programme. This made me feel so anxious. With the support of my Team Leader and Organisational Development Co-ordinator I attended the short listing.
The short listing interviews were difficult as I didn't know what to expect. However it wasn't long before I started to feel at ease. Everyone involved believed in me, my confidence started to grow.
At the Interview I was asked what I wanted to get out of the programme, and if I was successful what topic I would choose to do a 900 word essay on. I explained I would really like to share a story about my autism and my employment experiences so far. Later that day I got the well-received call saying I had been selected to take part in the Young Scotland Programme in Troon, on 20 – 23 November. I just couldn't believe this was happening to me. The judges gave me some fantastic feedback. – Still can't believe it!
Prior to the event I submitted a 900-word paper on the topic of my choice – My Autism.
Travel arrangements were made for me and a colleague. I'd never been to Troon before and felt very nervous. Two trains and a taxi ride later we arrived at the hotel where thirty-four delegates gathered together for 3 intense days of papers, discussion, group work and 'Testimony' speakers.
At the Welcome Meeting we all introduced ourselves, and we had to tell each other 2 truths and a lie about ourselves, this was good to break the ice and definitely helped my nerves as well as others. We then went on to do roleplay where we were put into groups and we were given a word which we had to create a scene with. The word my group was given was 'Trust'. We had Day 1 to practice and a couple of hours on Day 2. We had to do our presentation after dinner on Day 2. At the end of Day 1; I felt it had definitely been a great start to my Young Scotland Experience.
Day 2 was filled with those who were doing their essay presentations, and some were also presenting their 2 minute talk about a topic of their choice without cue cards. This was a challenge to mainly test our confidence when remembering information. We then met back with our groups and worked on our scenes for the roleplay.
Day 2 was the day I was presenting my 2 minute talk which I chose to do on 'Is mobile phones taking over our lives' – I put my argument across and decided 'Yes' phones are taking over our lives.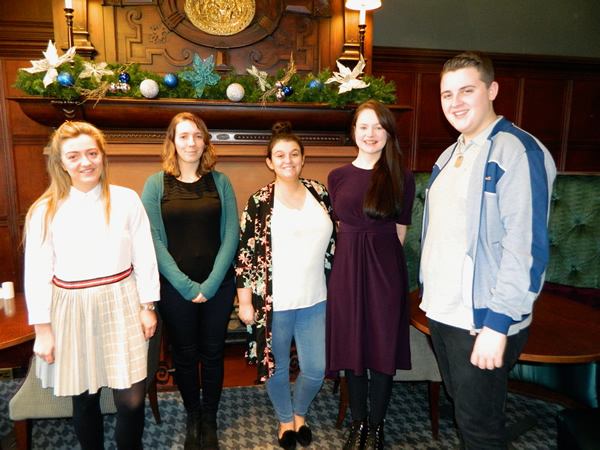 After dinner we all went through to the Conference Room and sat in our groups and prepared for when our group was shouted out to perform our scene. We all thoroughly enjoyed it and managed to build on our confidence at the same time.
On Day 2 I personally felt it was good because I had managed to build on my confidence and communication skills through performing a drama scene.
On Day 3 I had to deliver my presentation. I had a lot of things going on around in my head including nerves but excitement as well because I had to present my essay; I was looking forward to sharing my story with everyone but really nervous for 'what everyone will think about it'.
Throughout the morning we had speakers come in to give us a talk about a difficult experience they had encountered.
The first speaker told us about how she used to be a Heroin Addict, and the difficult experiences she had encountered in her life. She had spent several years in prison and how she still suffers a lot with not having her son living with her.
The second speaker was a gentleman who spoke about the loss of his young child in a plane crash, and he told us all about the struggle he had coping with this.
Then we had the third speaker who spoke about her experience of meeting a man on a dating website and how she found out that the information on his profile was different to who he really was.
After the speakers I presented my Essay on Autism. This is a very personal topic for me, and the essay I was presenting was all about my experiences living with Autism and how other people have coped with my difficulties in the workplace. When I stood up in front of the crowd I took a couple of breaths and then started to speak, it was difficult to begin with but then I realised everyone was in the same boat presenting their essays.
I really enjoyed going through my story making everyone more aware of employers who are working with those with Difficulties/Disabilities. When I finished my talk, the judging panel asked me a few questions on why I had decided to talk about my experiences living with Autism.
I was approached by the second speaker after I done my presentation, he told me about how he has a family member that has Autism and how he has never understood it. He said to me "That was so inspiring and honest and I really enjoyed listening to your experience in employment and how you are now getting on really well" This made me feel really good in knowing I have helped someone.
After dinner we went back through to the Conference Room, the panel summed up each presentation individually and gave each one of us feedback on our talks, whilst awarding us with a certificate.
Following the awards dinner we all sat in the sitting area as it was the last night and we all chatted away, this felt really good as living with Autism sometimes I find it really difficult to communicate with others and when networking I struggle to hold a conversation. This made me feel 'normal' and like others because a lot of the time I feel I am not, but this experience has helped me think otherwise.
I thoroughly enjoyed my experience of the 'Young Scotland Programme' it's been hugely beneficially boosting my self-esteem and confidence as well as developing my presentation skills and communications skills.
Since attending the YSP I have presented my debate paper at the Youth Work Forum at Perth Concert Hall. I can honestly say there is no way I could have delivered this without experiencing the YSP journey. Again I'm in awe at the feedback delegates and others have given. It's a fantastic experience to share my learning with others.
Reflecting on this experience I feel blessed to have had so much support through the whole process. Adopting the LIG philosophy my team leader and team, organisational development co-ordinator and PKC judges have been behind me all the way. This has been the perfect learning opportunity for me, enhancing my individual growth and development.
I'm so proud to be part of the PKC family and hope to continue on this upward journey.
My Modern Apprenticeship Experience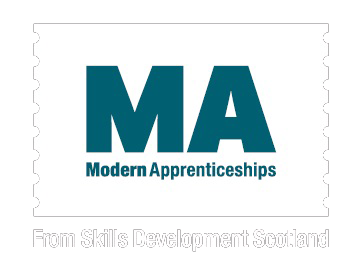 Modern Apprenticeships are becoming more popular in Scotland and are described as 'Learning on the Job' where you work and gain a qualification at the same time; anyone between 16-24 can apply for an Apprenticeship whether it is in Admin, Construction, Digital Skills or any of the other available qualifications.
My Modern Apprenticeship in Perth & Kinross Council has been so much more than just a learning experience. It has been a year filled with Team work, learning experiences, laughter, networking and many achievements.
On my first day of being part of the Modern Apprentice Programme, I was really nervous, due to the lack of confidence I had. I knew I was going to be networking with many different people internally and externally and wasn't sure how I would cope with this.
Most of my difficulties were down to my Autism, but this didn't stop me from following my goals.
Once I was settled into my job my SVQ Assessor contacted me asking me about when I was free to meet to begin my SVQ, I was so looking forward to beginning my journey here. My assessor met with me fortnightly or sometimes weekly to support me in completing my SVQ Level 3 in Business & Administration, this entailed 7 different modules. I had several questions, statements and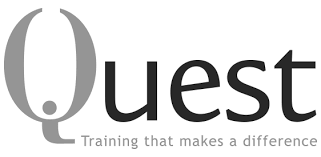 observations to complete. My Modern Apprenticeship was spread over 12 Months, I managed to get it finished within 6 months as I had such a variety of jobs to complete on a daily basis. Over the course of my journey whilst my assessor was meeting with me it was clear I was struggling in some areas i.e. understanding questions and processing information I was being told. When my Assessor noticed this, things were put in place to support me such as, I would get things explained to me in more detail, and I would get everything that was said in our meeting sent to me in an email for me to look over. I felt like I could approach my assessor any time to ask questions. My team and all other colleagues I worked with supported me through my whole SVQ by writing me Witness Testimony's when needed and helping me understand parts that I maybe didn't understand.
There are 11 members of the Learning & Development Team. I have learnt things from every single person, and I have used skills to complete work. I am regularly asked to support the team, whether it is creating a poster for an event or training session, upload a session onto the website or Eventbrite or even printing, photocopying and laminating. I have managed to gain valuable experience whilst working in the Learning & Development Team and I have appreciated all that has been done to support me this year.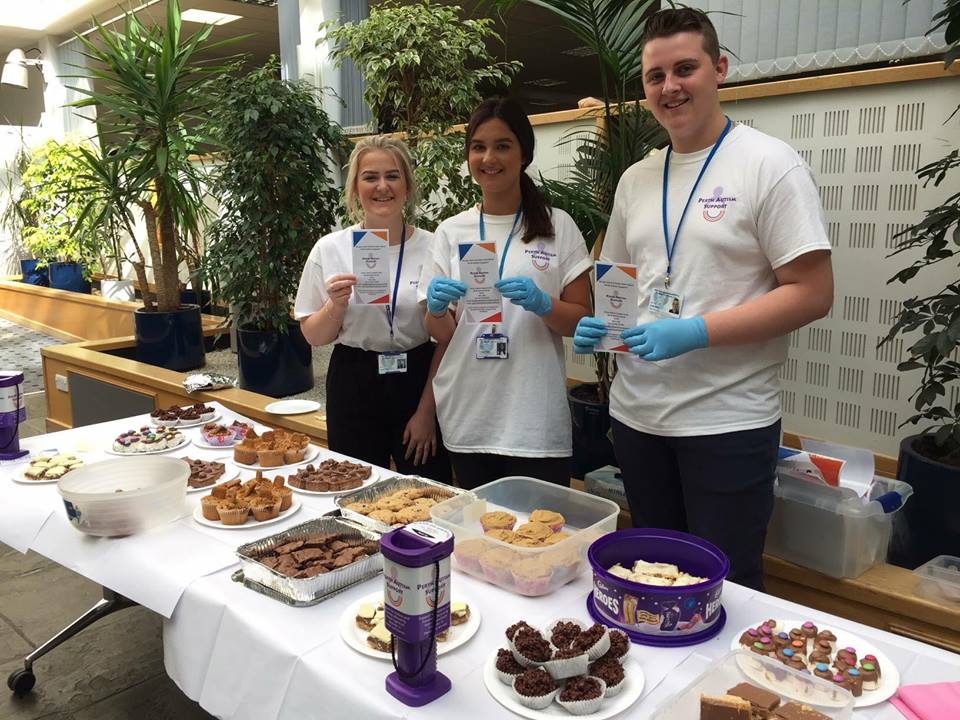 Whilst being a Modern Apprentice I have had so many great opportunities. One of my main opportunities which I really enjoyed was being part of The Modern Apprentice Charity Group; my favourite thing about this was the charity we were raising money for was 'Perth Autism Support'. This charity means a lot to me because of my background. We raised money by doing a charity book sale, raffle's, Tombola and numerous different bake sales. So many people made donations when we done our fundraisers whether it was donating things for our raffle, book sale or baking us cakes for our bake sale. Then each time we done a fundraiser we raised great amounts because of all the support we had. Every year the Modern Apprentice group form a charity group and raise money for a charity of their choice.
Other opportunities I have had whilst being a Modern Apprentice, I got to spend the day with 22 German Exchange Students. Myself and numerous other Modern Apprentices learnt them all about the history of Perth, We done variety of different activities which was so good in getting everyone networking. We were also lucky to learn facts about Germany. I have had so many great opportunities, too many to tell you about. There is just one more I want to talk about because it was one of my favourites. It was when I got to go and visit Perth Sherriff Court with a group of other Modern Apprentice's. We got the chance to tour the Courthouse and we then met the judge who told us the duties she would carry out day to day and she gave us an understanding of how a court works. We then got the chance to sit in on some trials.
As well as many opportunities I was offered as a Modern Apprentice, PKC has so many great opportunities to offer employees. Some which include Learning Lunches, Career opportunities and many different discounts throughout Perth & Kinross.
There was an opportunity that was advertised that any PKC employee could apply for, the 'Young Scotland Programme'. This was a 3 day course filled with Presentations, discussions, group work and Testimony Speakers, this course was in in Troon, South Ayrshire. Myself and 8 other employees applied for a place, myself and another member of staff got picked to attend this course. I was awarded a certificate for my attendance and participation in this course.
With my last day as a Modern Apprentice is fastly approaching, I am looking for where to go next. From working in the Learning and Development Team I have been so lucky to learn skills from every individual. I feel so much more confident in myself and I will take all the skills and experience I have now got, with me on my Journey.
The whole of the PKC family has been so supportive to me during my time here, I am so lucky to have had the chance to experience this programme.